(Click on pictures to Enlarge)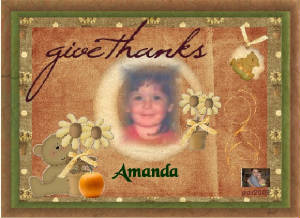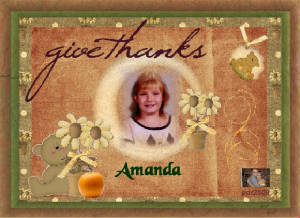 Amanda Robin Whiteman
Born: Sept. 4, 1993
Returned to Heaven: Aug. 23, 2004
Amanda loved these every Christmas Thank you David for sharing!Thought you might like some of the recipes I have on my site.Hi: You may want to check out this site it has some Great Recipes: http://www.whiteman-recipes.us/
Cinnabon Clone
You have got to try these. The first time I made them, I thought of how much money I could save by making my own!
Prep Time: approx. 20 Minutes. Cook Time: approx. 15 Minutes. Ready in: approx. 3 Hours. akes 12 rolls (12 servings).
Pastry Mix:
1 cup warm milk (110° F/45° C)
2 eggs, room temperature
1/3 cup margarine, melted
4 1/2 cups bread flour
1 teaspoon salt
1/2 cup white sugar
2 1/2 teaspoons bread machine yeast
Brown Sugar-Cinnamon Mix:
1 1/2 cup brown sugar, packed
2.5 tablespoons ground cinnamon
1/3 cup butter, softened
Icing:
1 (4 ounce) package cream cheese, softened
1/4 cup butter, softened
1 1/2 cups confectioners' sugar
1/2 teaspoon vanilla extract
1/8 teaspoon salt
Directions



1 Place ingredients in the pan of the bread machine in the order recommended by the manufacturer. Select dough cycle; press Start.

2 After the dough has doubled in size turn it out onto a lightly floured surface, cover and let rest for 10 minutes. In a small bowl, combine brown sugar and cinnamon.

3 Roll dough into a 16x21 inch rectangle. Spread dough with 1/3 cup butter and sprinkle evenly with sugar/cinnamon mixture. Roll up dough and cut into 12 rolls. Place rolls in a lightly greased 9x13 inch baking pan. Cover and let rise until nearly doubled, about 30 minutes. Meanwhile, preheat oven to 400° F (200° C).

4 Bake rolls in preheated oven until golden brown, about 15 minutes. While rolls are baking, beat together cream cheese, 1/4 cup butter, confectioners' sugar, vanilla extract and salt. Spread frosting on warm rolls before serving.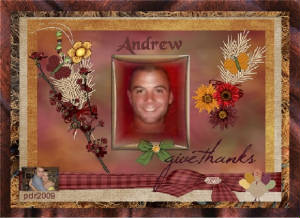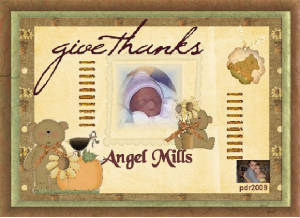 Alma Mills
Angel Mills
1/7/05-1/7/05
Family Favorite
Chicken Enchiladas
5-6 Chicken Breast (9 - 12 enchiladas)
Corn tortillas
vegetable oil
12 oz. of mild cheddar cheese, grated
enchilada sauce (You can find it in the Mexican Section of any store)
boil the chicken for 1/2 hour. Place on a clean cutting board and cut the chicken into approximately 1 inch chunks.
Heat the vegetable oil on medium high heat in a pan big enough to fit the tortillas in.
When the oil is hot, take two tortillas with tongs and hold them in the oil until they bubble. The tortillas should bubble right away. If they don't, your oil is not hot enough.
Lift and dip the tortillas in and out of the oil 3 times fairly quickly. (The goal is to make the tortillas soft so they are easy to roll. If you leave them in the oil too long, the tortillas get stiff and are hard to roll)
Now dip the tortillas in hot enchilada sauce to coat them. Transfer the coated tortillas to a plate or tray. The tortillas will be hot, so be careful.
Grab one end of the tortilla (closest to you) and bring it over 3/4 of the way to the other end. Place your fingers on top near the chicken. Tuck and roll the enchilada over so that the opening is now on the bottom.
Pick up the enchilada and place it on a oven-proof dish. When you pick it up, make sure you grab the seam on the bottom with your fore fingers and let your pinky fingers cover the ends of the enchilada so the chicken doesn't fall out.
After you have placed your chicken enchiladas in the dish, use a ladle to spoon the enchilada sauce over the top of all the enchiladas. Spoon plenty of sauce to completely cover the enchiladas and the bottom of the dish.
Sprinkle grated mild cheddar cheese over the top of the chicken enchiladas. Use a much or as little as you desire.
Preheat your oven to 400 degrees and place the chicken enchiladas in the oven. You don't need to cover them.
When you see that the cheese has completely melted and the sauce is bubbling around the edges, you know it's hot enough.
Take the chicken enchiladas out of the oven and serve immediately.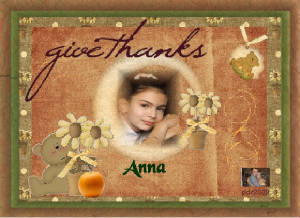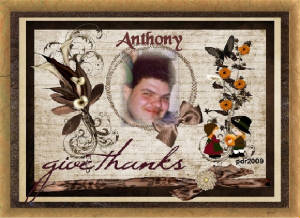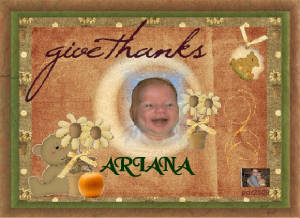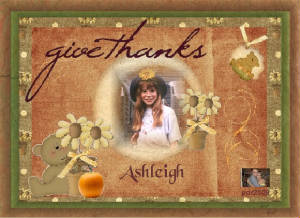 Judy Smith
In Memory of Her Daughter
Ashleigh Nicole Bruner
Jan. 23, 1984
Oct. 20, 1996
Judy's Famous Potato Salad
8 medium potatoes
2 tablespoons mustard
2 teaspoon sugar
1 cup chopped celery
2/3 cup chopped onion
1/2 cup chopped pimiento-stuffed olives
1 teaspoon salt
1 1/2 cup mayonnaise
4 hard-cooked eggs, chopped
In a saucepan, cook potatoes in boiling water until tender. Peel and cube; place in a medium bowl. Sprinkle with sugar. Add the celery, onion, olives, and the salt. Fold in mayonnaise, mustard and eggs. Cover and refrigerate for at least 1 hour. I've been making this potato salad for years and never wrote it down, I double this recipe for my family gatherings.
It's Cheeseburger Soup

1/2 pound ground beef

3/4 cup chopped onion

3/4 cup shredded carrots

3/4 cup diced celery

1 teaspoon dried basil

1 teaspoon dried parsley flakes

4 tablespoons butter, divided

3 cups chicken broth

4 cups diced peeled potatoes (1-3/4 pounds)

1/4 cup all-purpose flour

2 cups (8 ounces) process cheese (Velveeta)

\-1/2 cups milk

3/4 teaspoon salt

1/4 to 1/2 teaspoon pepper

1/4 cup sour cream

Directions

In a 3-qt. saucepan, brown beef; drain and set aside. In the same saucepan, saute onion, carrots, celery, basil and parsley in 1 tablespoon butter until vegetables are tender, about 10 minutes. Add broth, potatoes and beef; bring to a boil. Reduce heat; cover and simmer for 10-12 minutes or until potatoes are tender.

Meanwhile, in a small skillet, melt remaining butter. Add flour; cook and stir for 3-5 minutes or until bubbly. Add to soup; bring to a boil. Cook and stir for 2 minutes. Reduce heat to low. Add cheese, milk, salt and pepper; cook and stir until cheese melts. Remove from the heat; blend in sour cream. Yield: 8 servings (2-1/4 quarts).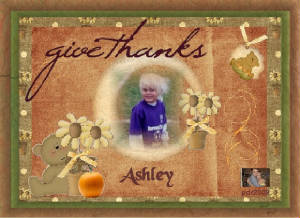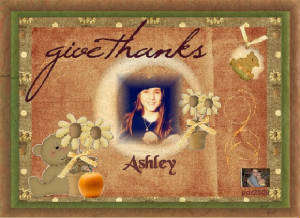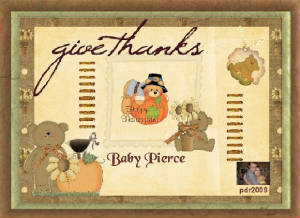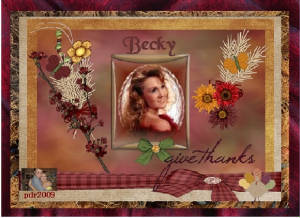 Reeny Fitzer
In Memory of Her Daughter
Becky
PUMPKIN CRUNCH
1 PACKAGE YELLOW CAKE MIX
1 CAN PUMPKIN (16 OZ)
1 CAN EVAPORATED MILK (12 OZ)
3 EGGS
11/2 CUPS SUGAR
4 TEAS.PUMPKIN PIE SPICE
1 CUP CHOPPED PECANS
1 CUP MELTED BUTTER
WHIPPED TOPPING
PREHEAT OVEN TO 350 DEGREES.
GREASE 9 X 13 PAN . COMBINE PUMPKIN,
MILK,EGGS,SUGAR,AND PUMPKIN PIE SPICE
IN LARGE BOWL. POUR INTO PAN. SPRINKLE DRY
CAKE MIX OVER MIXTURE ,TOP WITH PECANS
DRIZZLE MELTED BUTTER.
BAKE FOR 50-55 MINUTES OR TIL GOLDEN
BROWN. LET COOL SERVE WITH WHIPPED
TOPPING. REFERIGERATE LEFTOVERS .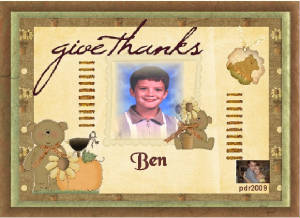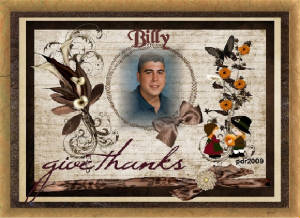 Diane Kayser
In Memory of Her Son
Billy
Death leaves a heartache no one can heal.
Love leaves a memory no one can steal.
Here's Billy's favorite cake. I had to make it for him for every birthday. One of is favorite pastimes was eating. He loved food.
Ice Box Cake
1 box graham crackers
2 boxes chocolate pudding (the cooked kind not instant)
2 boxes of vanialla pudding (the cooked kind not instant)
1 pint heavy cream
1 banana
1 can sliced peaches
1. Line the bottom of a 19x13 pan with graham crackers
2. Cook the vanilla pudding then pour on top of the crackers
3. Cover the vanilla pudding with another layer of graham crackers
4. Cook the chocolate pudding then pour on top of the crackers
5. Cover the chocolate pudding with another layer of graham crackers
6. Place in refrigerator until pudding is set. (graham crackers will become soft)
Just before serving
1. Whip heavy cream with 1 tsp. sugar and 1 tsp. vanilla until it forms a whipped cream consistency.
2. Spread over the top of the cake to cover all the crackers
3. Alternate rows of sliced banana's and sliced peaches to decorate
4. Sprinkle crushed graham crackers over the top.
Serve and Enjoy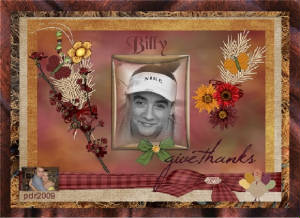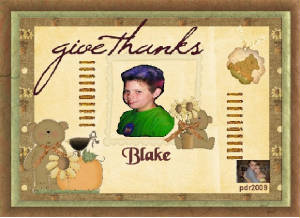 Marilyn In Memory of My Son
Blake Edward Justes
07/25/91-01/25/04
http://www.findagrave.com/cgi-bin/fg.cgi?page=gr&GSsp=46538086&GRid=41564722&
Lots of Zucchini. It came from the Three Rivers Cookbook II and I've been making it for years because everyone likes it so much! I use the pineapple but not the nuts...it's very moist and flavorful.
Zucchini Bread
3 eggs, 1C cooking oil, 2 C sugar,
2 C grated zucchini, 3 tsp. vanilla.
Mix together and set aside.3C flour,
1tsp. salt, 1tsp. baking soda, 3 tsp. cinnamon.
Mix together. Add to first mixture.
1C nuts (optional), 1-8 oz. can crushed pineapple, with syrup (optional). Stir in nuts and add pineapple and blend.
Pour into 2 loaf pans (greased and floured) and bake at 350 for 40-60 minutes. Cool before slicing.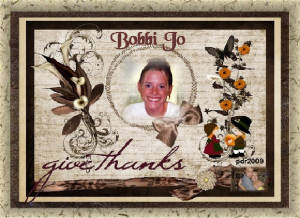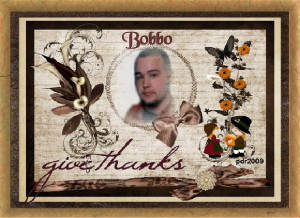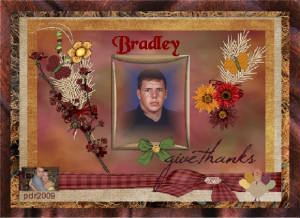 Amy Mcauliffe
November 25, 1977 - February 19, 2008
Aunt Anne & Uncle Bill's Spinach Dip

10 oz. package frozen chopped spinach, thawed and drained well
8oz. sour cream
1 cup mayo
1 package mrs grass homestyle veg soup mix
1 can chopped water chestnuts

mix all ing's well and chill 3 hours serve with crackers or vegs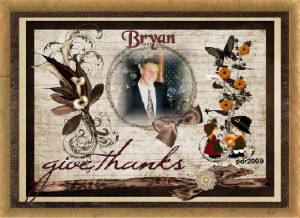 Shannon Reid
Bryan's Mom
08/24/84
I've been trying to think of what to send for a recipe that was one of Bryan's fav's~ the only thing i can think to do is send the same thing i used to take to the TCF meetings i went to in Columbus~
a jug of the Pilsbury Choco Chip Cookie Dough and a spoon~ it was his fav!!! I had time to bake some and they were gobbled up so fast your head could spin~ and then he would get the spoon back out again! I'll try to think of something else, but this was by far his fav dessert!
Hugs,
Really is delicious!!! The varieties you can use is all up to the individual, but i like the french vanilla pudding w/french vanilla coolwhip however last year i used a new Pumpkin pudding and the French Vanilla OMG!!
CHOCOLATE ÉCLAIR DESERT
Ingredients
2 boxes Instant pudding (choice of flavors available, I prefer French Vanilla)
3 ¾ C milk
2-8 oz tubs of Cool Whip (again, lots of choices, I like the FV w/FV pudding)
1-tub dark chocolate frosting
1-box Cinnamon graham crackers
9x13 cake pan with lid
Take cool whip out of freezer while you gather all of your supplies. Having it partially thawed makes it so much easier to work with later (15-20 minutes)
Mix pudding and milk approx 2 min
( Pudding directions call for 2 c each package, but I have found it 'sets' better with
3 ¾ cups.)
Fold in the thawed cool whip with the pudding, set aside.
Place a layer of Cinnamon graham crackers sugar/cinn side UP in the cake pan.
Make sure sides are as tight as possible, you may need to trim the crackers to fit the pan
Pour ½ the pudding in and spread around
Make another layer of graham crackers face up
Spread remaining pudding mix
Top layer of crackers sugar/cinn side down-try to leave no spaces
Open frosting tub, remove the tin lining and put in micro for about 20 seconds- making it very easy to stir and pour
Stir and pour over layered mixture. Try to get it to 'seal' over top. This is where the tightness of the crackers comes in.
Cover, place in fridge over night.
Use your imagination too. There are a lot of varieties you can try. We have also used banana pudding with regular vanilla cool whip, and chocolate crackers and chocolate puddings. This one can be very rich, but it is yummy!
If you have a strawberry fan, or lemon or coconut, there are several varieties of pudding and cool whips now. I have found the best prices and varieties at Kroger.
Good Luck! I have shown 2- 13year olds this recipe and they are now the hit of the party being able to make it and take it themselves.
Leftovers on the mixer tongs, bowl and spoon are to be dispersed at Chefs discretion! J
This is one of the easiest~once you've made it a couple of times~ recipes i've ever made! it is consumed byt he plate or bowl full~ it's so fresh and lovely in your mouth that you want to get just "one more spoonful" and then the bowl is empty and you are looking around to see who else is going in for seconds or thirds or even more!
Happy Holidays!
Shannon Reid