(Click on pictures to enlarge)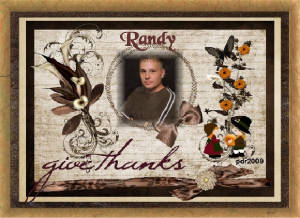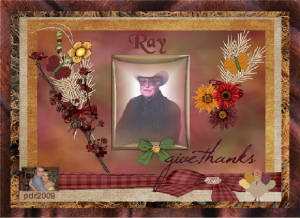 Reeny Fitzer
In Memory of her Loving Husband
Ray Fitzer
Deep Fried Chicken Livers with Country Gravey
1. `Carton of fresh Chicken livers or frozen
2. 2 eggs
3. 2 cups flour
4. 1/2 teas.salt
5. 1/2 teas. black pepper
In small bowl beat the eggs. Put Flour,salt, and pepper in a plastic bag .
Take livers and drain them really good.
Place livers in eggs ,then in the flour mixture coat them well ,then repeat putting them in the
egg mixture then again in the flour mixture.
Place them in hot oil (of your choice ) that covers the livers . Cook til they are a golden brown .
Drain them when they are done on a paper towel.
Country White Gravey
1. 1/4 cup all purpose flour
2. 4 tables. of the left over Chicken livers frying oil
3. 3 cups of milk
Remove left over oil from Frying pan except for the dripping and about 4 tables. oil.
Stir In flour ,cook over med flame til bubby , And Milk and continue to cook til it thickens .
Salt and Pepper to taste.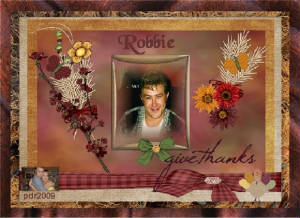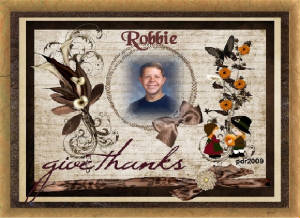 Saralyn
In Memory of her Son
Robbie
Here is a recipe that Robbie loved:
My Grandmother's Pound Cake

2 cups butter (NOT oleo), softened to room temperature
2 cups sugar
6 eggs, at room temperature
dash of salt
2 tsp. real vanilla
2 cups flour

I often set out the butter and eggs overnight, to come to room temperature, and then bake the cake early the next morning.

Beat the sugar and the softened butter until very smooth and creamy.Add all 6 eggs and beat on low until mixed; then turn on high and beat for at least 5 minutes, or until the sugar is
completely dissolved.

Stir in the salt and 2 tsp. vanilla and beat until smooth.
Add the flour, one cup at a time, and beat just until smooth.
Spoon into a Bundt pan or Turk's Head pan that has been buttered and floured.

Bake at 325 for approximately 50 minutes before checking; may need to bake
for a full hour. Test for doneness with a toothpick.

Serve warm or room temperature, plain or with ice cream or fruit. Will store well if kept in aluminum foil---if it isn't devoured
all at the first sitting, that is! There is no leavening needed; this cake will rise to fill the pan. Saralyn

Here is another recipe---Robbie's favorite dinner and the one I cooked for him the night before he died. It has always comforted me that on his last day with us, he had all his favorites: pancakes for breakfast, a crispy chicken sandwich for lunch, and my barbecued brisket for dinner.

Robbie's Favorite Barbecued Brisket

4 to 7 lbs. brisket, with most outside fat removed
2 to 4 tbs. Liquid Smoke
Onion Salt
Garlic Salt

Rub the Liquid Smoke on the outside of the brisket; also rub with the onion
salt and garlic salt. Wrap tightly in foil and refrigerate for several
hours (or overnight).
Place tightly wrapped brisket in baking dish and bake at 300 degrees (slow
oven) for 5 and 1/2 hours. Let cool; pour off fat; slice.

Make a Sauce with the following ingredients:

3 tbs. brown sugar (packed firmly)
14-oz. of ketchup
1/2 cup water
2 tbs. Liquid Smoke
Dash of salt and pepper
4 tbs. Worcestershire sauce
1 tbs. DRY mustard (NOT prepared mustard)
2 tsp. celery seed
6 tbs. butter

Mix all the above ingredients and bring to boil in a medium saucepan.
Have the sliced brisket lying on aluminum foil in a baking pan. Pour the hot sauce over the sliced brisket. Wrap the brisket completely and tightly in the foil; bake for one hour at 350 degrees.

Makes from 8 to 12 servings. If not completely eaten up at the first
sitting, rewrap in foil and refrigerate. Can be reheated the next day.

I usually serve this with mashed potatoes and a green vegetable,but it also makes fabulous sandwiches.
Saralyn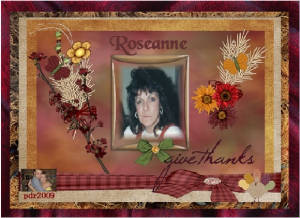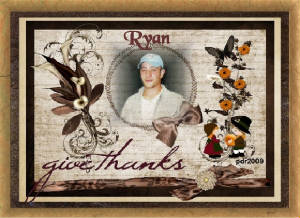 Linda DeAndrea
In Memory of Her Son
Ryan
Perfect Apple Pie

6to 8 apples (gala or macintosh) pared, cored and thinly sliced (approx. 6 cups)
1 cup sugar
2 tablespoons flour
1 teaspoon cinnamon
Pastry for 2 crust 9 inch pie
2 tablespoons butter


Combine sugar, cinnamon, flour, mix with apples. Line 9 inch pie plate with pastry. Fill with apple mixture.
Dot with butter. Adjust top crust and cut slits for venting. Seal. Sprinkle top with sugar. Bake at 400 degrees
for 50 minutes.

Pastry:

2 cups flour
1/2 teaspoon salt
2/3 cup shortening crisco
6 to 7 tablespoons water

Mix together flour and salt. Cut in shortening till pieces are the size of peas. Sprinkle 1 tablespoon
of water over mixture and gently toss with fork. Push to side of bowl. Repeat till all is moistened.
Divide dough in half. Form each half in o ball.

On lightly floured surface, flatten one ball of dough with hands. With a rolling pin roll dough from center to edges,
forming a circle about 12 inches in diameter. Wrap pastry around rolling pin.
Unroll onto 9 inch pie plate. Do same with 2nd ball of dough.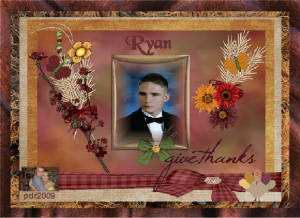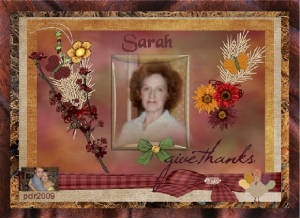 Amy Mcauliffe
Sarah "GG" Schelling
Born: February 7, 1930
Died: June 27, 2009
Nana's Spagehtti Sauce
Saute Onions
Brown 1lb Ground Meat
Drain Grease
Add 1 large Can Tomato Sauce
1 Tblsp Vinegar
1 Tblsp Sugar
Cook on Low for 6-8hrs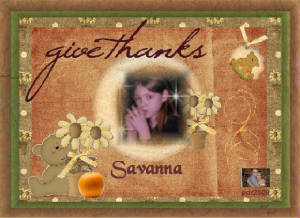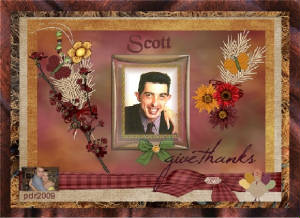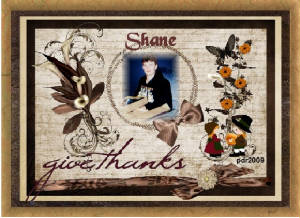 DJ Short
In Memory of her Son
Shane Short
Heres a recipe that my boys loved. Hugs, DJ
This is wonderful on those cold days, My boys would devour the whole pot. Dj
Baked Potato Soup
8 Bacon slices - fried & crumbled
1 cup Yellow onions - diced
2/3 cups Flour
6 cups Chicken stock - hot
4 cups Potatoes - baked, diced & Peeled
2 cups Heavy cream
¼ cup Parsley - chopped
1½ tsp Granulated garlic
1½ tsp Salt
1½ tsp Red pepper sauce
1½ tsp Coarse black pepper
1 cup Cheddar cheese - grated
¼ cup Green onions - diced


Chop bacon; reserve. Cook onions in remaining drippings
Over medium high heat until transparent, about 3 minutes.
Add flour, stirring to prevent lumps; cook for 3-5 minutes,
Until mixture just begins to turn golden. Add chicken stock
Gradually, whisking to prevent lumps until liquid thickens.
Reduce heat to simmer and add potatoes, cream, chopped bacon,
Parsley, garlic, basil, salt, pepper sauce and black pepper.
Simmer for 10 minutes; do not allow to boil. Add grated cheese
And green onions, heat until cheese melts smoothly. Garnish
Each serving as desired with chopped bacon, grated cheese and
Chopped parsley.
Makes 8 Servings.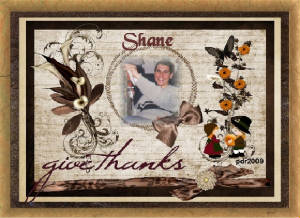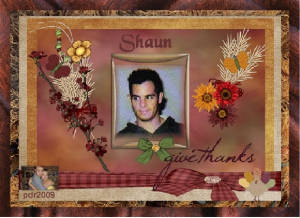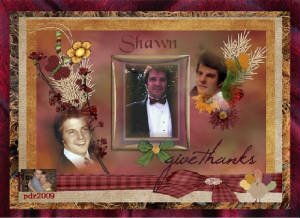 Rosemary Bassett
In Memory of Her Son
Stephen "Shawn" Adams
Shawn's Coconut Beer shrimp
1 Lb Shrimp
3/4 cup pancake mix
3/4 cup beer
1 Tbs. coconut milk
1/4 cup flour
1 cup flaked coconut
vegetable oil
Combine pancake mix,beer and coconut milk, mix well..Dredge shrimp in flour,shake off excess..Dip into batter then dredge coated shrimp in coconut..
Heat oil in deep fryer or in saucepan..Fry 5 or 6 shrimp at a time until golden brown on each side..Drain on paper towel and serve with a dipping sauce..we like ..1/2 cup sour cream. 1/4 cup pina colada mix, 1/4 cup crushed pineapple & 2 Tbls sugar.. or another one is ..1/2 cup apricot marmalade w/ 2 tbls. stone ground mustard & 1 tbls prepared horseradish ..use your own favorite dipping sauce if you have one..
Shawn's Peanut Butter Pie

1 (5 oz.) pkg. vanilla pudding & pie filling mix (not instant)
6 or 7 tsp. peanut butter
1/2 c. whipping cream, whipped
1 (9") baked pie shell or graham cracker pie crust
Sweetened whipped cream
1/4 c. chopped peanuts

Prepare pudding mix according to package directions, adding peanut butter. Beat until thoroughly blended. Fold in whipped cream. Turn into baked pie shell or graham cracker crust. Chill until set. Top with sweetened whipped cream and sprinkle with peanuts.