(Click on pictures to enlarge)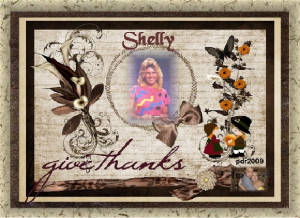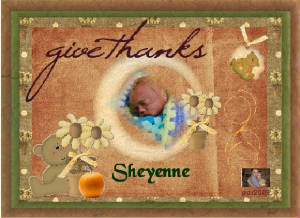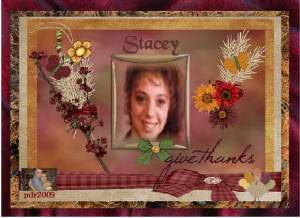 Kathy Westpy
In Memory of her Daughter
i am Italian and we don't write down recipes...we sort of fly by the seat of our pants when cooking and try to remember how my grandma's used to cook and how my mom used to cook....the traditional dishes for the holidays are learned by watching and then doing them....some times we added more salt and pepper and at other times more garlic or onion...according to how the dish tastes and there are a lot of special things that Stacey liked that are just not your everyday dishes...any way....I love the idea...one of her favorite desserts.....holiday time only
Ambrosia of the Gods dessert
1/2 qt heavy cream
1 bag of small marshmallows
1 can of crushed pineapple
1 can of mandarin oranges
shredded coconut optional
whip cream, drain crushed pineapple and mandarin oranges, stir in small marshmallows, stir in drained crushed pineapple and mandarin oranges into cream and marshmallows, if you want the shredded coconut add now also,,,,let set in refrigerator for a few hours or even overnight....serve cold and keep it cold....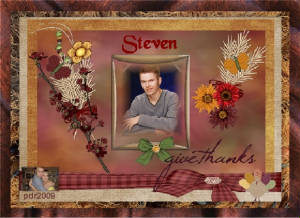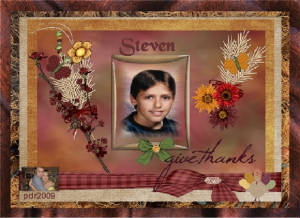 Tammy
In Memory of her Son
Steven West
Cherry Cordial Cake
Was always Steven's favorite but always bought it.
I found this recipe online Tammy is like I am not much into cooking LOL
Cherry Cordial Cake
Ingredients
3 eggs
1/4 cup water
1/2 cup vegetable oil
1 box white cake mix
1 small box of cherry jell-o
3/4 cup reserved marashino cherry juice
1 jar (16 oz.) maraschino cherries, drained and coarsely chopped
Glaze
6 squares (1 oz. size) semi-sweet baking chocolate
2/3 cup evaporated milk
Directions
Preheat oven to 350 degrees F. Beat eggs on high speed until foamy, about 2 minutes. Blend water and oil with eggs. Slowly add cake mix and jell-o, beating constantly. Add maraschino cherries juice and beat for 2 additional minutes. Gently stir maraschino cherries into the batter. Pour batter into a greased and floured 12 cup bundt cake pan and bake for approximately 45 minutes or until cake tester comes out clean. When cool, ice with chocolate glaze.
For the glaze: In a small saucepan, combine chocolate and evaporated milk. Cook and stir over low heat until mixture comes to a boil. Lower heat and cook gently for 3 to 5 minutes, stirring constantly until thickened. Cool, stirring occasionally.
By Connie from Cotter, AR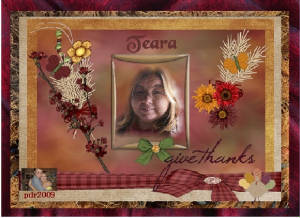 KELLIE DUNHAM
In Memory of Her Daughter
Teara
It is really hard to pick anything. I guess i will have to go with what seems to be the easiest for me this Holiday. We would eat these as a snack and finger food during all our Holiday get together's.
Stuffed Jalapeno's
12- large jalapeno's
1- 8oz package of philly cream cheese
12-slices of bacon(any flavor)
24-toothpicks
1- pint of buttermilk
makes 24. can adjust for amount desired
PREHEAT OVEN TO 350
CUT THE JALAPENO'S IN HALF LONGWAYS AND CLEAN OUT THE SEEDS. SIT THEM IN A DISH(A PIE PAN IS GOOD) AND COVER WITH THE BUTTERMILK AND LET SIT FOR 2 HRS IN THE FRIDGE (NO SOAKING IS NEEDED IF YOU LIKE THEM HOT)
FILL THE JALAPENO'S WITH CREAM CHEESE
WRAP THE BACON AROUND THE JALAPENO'S AND KEEP IN PLACE WITH THE TOOTHPICK.
PLACE ON A GREASED COOKIE SHEET
BAKE FOR 30 MINS OR UNTIL THE BACON IS DONE.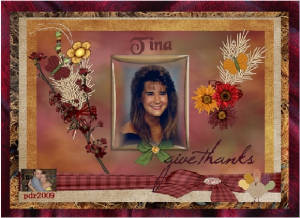 Linda Rice In Memory of her Daughter
Tina Marie McQuaig
http://missingtinamarieMcquaig.homestead.com/memorial.html
This is Tina's favorite recipe:
MEXICAN LASAGNA
PREHEAT OVEN 350 degrees
Ingredients:
21/2 lbs of Ground Hamburger
1 Medium Onion diced
1 Large Can of Cream Style Corn
1 10oz Can Tomatoes with Chilies
2 10oz Cans Enchilada Sauce (mild)
1 Small Can of Chopped Green Chili peppers
Seasonings to taste: Oregano, Garlic Powder, Chili Powder and Cumin
2-3 cups Shredded Monterey Jack or Cheddar Cheese
1 Pkg (10) Flour Tortillas
Sour Cream (optional)
1. Brown beef and drain.
2. Sauté onion and then add to beef.
3. Add all other ingredients (except for the cheese), mix well.
4. Sprinkle seasonings to taste
5. Stir well and cook for few minutes.
6. Pour small amount of meat mixture as first layer in Lasagna pan.
7. Begin to layer: flour tortillas (cut tortillas to fit pan rather than overlapping), meat mixture and cheese.
8. Repeat layers until you end up with cheese on top.
Bake for 30-35 minutes.
Let settle for about 5mins and the cut into squares to serve. Top with sour cream.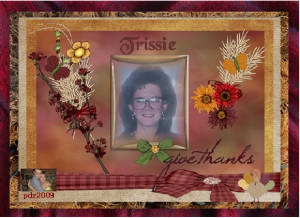 Carolyn Bethea
In Memory of her Daughter
Trissie
Trissies favorite food that she liked was cabbage rolls. We added and left off to get this the way she liked it. You need 1 cabbage head, 1 can tomato paste, 1 can tomatoe sauce, 1 can tomatoes, 1 cup rice, package of hamburger meat Boil cabage head until tender, peal off leaves and lay aside. In bowl mix hamburger meat, cup of rice, tomatoe paste, tomatoe sauce, and salt and pepper to taste. Roll into balls and wrap in cabbage leaves and put in big pot. Pour tomatoes over it and let slow cook till finished.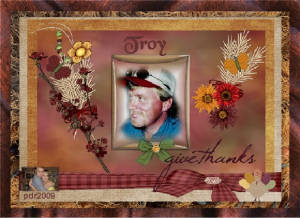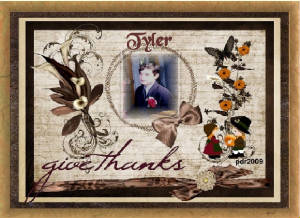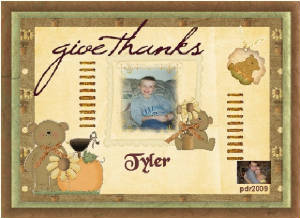 Tammy
In Memory of her Son
Tyler
Chicken and Dumplings
Yield: 6 servings (serving size: 1 1/3 cups stew and 4 dumplings)
Ingredients
• STEW:
• 1 (4-pound) whole chicken
• 3 quarts water
• 3 cups chopped onion
• 1 cup chopped celery
• 1 cup chopped carrot
• 1 teaspoon salt
• 1/4 teaspoon freshly ground black pepper
• 10 garlic cloves, peeled
• 4 thyme sprigs
• 2 bay leaves
• 1/4 cup all-purpose flour (about 1 ounce)
• 2 teaspoons cornstarch
• 3 tablespoons heavy cream
•
DUMPLINGS:
• 3/4 cup 1% low-fat milk
• 1 large egg
• 1 1/2 cups all-purpose flour (about 6 3/4 ounces)
• 1 tablespoon baking powder
• 1 tablespoon cornmeal
• 1/2 teaspoon salt
•
REMAINING INGREDIENTS:
• 1 tablespoon chopped parsley
• Freshly ground black pepper
Preparation
To prepare stew, remove and discard giblets and neck from chicken. Rinse chicken with cold water, and place chicken in an 8-quart stockpot. Add 3 quarts water and next 8 ingredients (through bay leaves); bring to a simmer. Reduce heat, and simmer 45 minutes; skim surface occasionally, discarding solids. Remove chicken from pot; cool. Strain stock through a sieve into a large bowl, and discard solids. Remove chicken meat from bones; tear chicken meat into 2-inch pieces, and store in refrigerator. Let stock cool to room temperature.
Pour stock into two zip-top plastic bags. Let stand 15 minutes. Working with one bag at a time, snip off a corner of bag; drain liquid into stockpot, stopping before fat layer reaches opening. Discard fat. Repeat procedure with remaining bag. Bring stock to a boil over medium-high heat; reduce heat, and simmer until reduced to 8 cups (about 15 minutes).
Heat a cast-iron skillet over medium-high heat for 5 minutes. Lightly spoon 1/4 cup flour into a dry measuring cup; level with a knife. Add flour to pan; cook 1 minute or until lightly browned, stirring constantly. Combine browned flour and cornstarch in a large bowl; add 2/3 cup stock to flour mixture, stirring with a whisk until smooth. Add flour mixture to remaining stock in pan; bring to a boil over medium-high heat. Cook 2 minutes or until slightly thickened. Reduce heat; stir in cream. Add chicken; keep warm over low heat.
To prepare dumplings, combine 1% low-fat milk and egg in a medium bowl. Lightly spoon 1 1/2 cups of all-purpose flour into dry measuring cups, and level with a knife. Combine the flour, baking powder, cornmeal, and 1/2 teaspoon salt. Add flour mixture to milk mixture, stirring with a fork just until dry ingredients are moistened.
Drop one-third of dumpling batter by 8 heaping teaspoonfuls onto chicken mixture. Cover and cook for 3 minutes or until the dumplings are done (do not allow chicken mixture to boil). Remove dumplings with a slotted spoon; place in a large serving bowl or on a deep serving platter; keep warm. Repeat procedure with remaining dumpling batter.
Remove pan from heat; slowly pour stew over dumplings. Sprinkle with the chopped parsley and freshly ground black pepper. Serve immediately.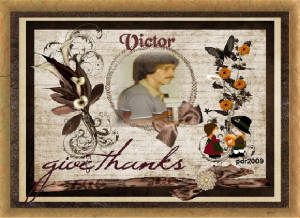 Patricia Powell
In Memory of
My Angel My Brother: Victor Allen Hester.
No Fool's Pie
3/4 stick margarine
3/4 cup sugar
3/4 cup flour
3/4 cup milk
Mix together margarine and sugar until well blended. Then slowly add flour and milk until well blended. Pour ingredients into a glass baking dish. Drain a can of mixed fruit or peaches (any fruit will do), then add to mixture. Bake at 350 for approx. 40 minutes.
My Angel is Victor Allen Hester
Dec. 7 1966 - May 31 1990
Love & Hugs, Patricia
Raw Vegetable Salad
1 head cauliflower
1 bunch fresh broccoli
1 green bell pepper
3 stalks celery
3 carrots/chopped in circles
Poppy Seed Dressing
1 onion, chopped
1 cup sugar
2 teaspoons dry mustard seed
1 teaspoon salt
½ cup vinegar
¾ cup vegetable oil
1-2 tablespoons poppy seeds
Chop veggies into bite size pieces. Make dressing by adding all ingredients and blending thoroughly. Pour dressing over veggies and chill for at least 6 hours, covered.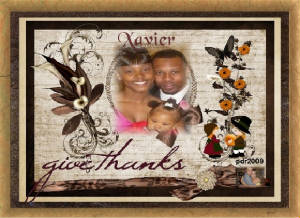 Germaine Godard
In Memory of her Son
Xavier
To be honest...here is one I would love to share because I know he would have loved it...my other recipes he loved were borrowing/traditional. Because I know his taste he would love this....so I will name it "Recipe Xavier would have loved"
Here goes...
Crockpot Mac and Cheese
16 oz macaroni (cook according to directions and drain)
2 egga, beaten
1 (12 oz) can evaporated milk
12 oz reg. milk (use evaporated milk can to measure)
16 oz cheese (extra sharp)...more cheese the better
Salt and pepper to taste
Put all ingredients in crock pot and stir (mix well) Cook on low 3 to 3 1/2 hours. VERY GOOD. My daughter who always complains actually enjoyed it. If she loved it I know Xavier would have given me more then enough high-fives and hugs.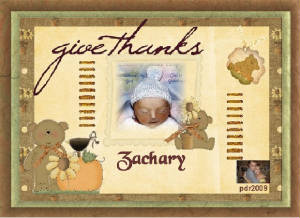 Regina Corp
In Memory of her Precious Son
Angel Zachary Corp
Favorite Deviled Eggs

6 hard-cooked eggs,finely chopped
3 bacon strips,cooked and crumbled
1/4 cup mayonnaise
1 teaspoon minced onion
1/2 teaspoon salt,optional
1/2 teaspoon pepper
1/4 teaspoon prepared mustard
1 cup (4 ounces) shredded cheddar cheese

In a bowl,combine the first seven ingredients untill creamy. Shape into 1-inch balls. Roll in cheese. Cover and refrigerate untill serving. Yield about 2 dozen.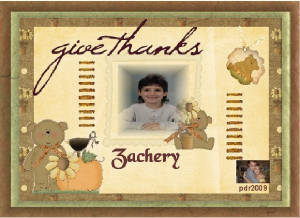 Donna
In Memory of her Grandson
Zachery Gibson
Donna's Pumpkin Bread
3 1/2 cups flour
1 tsp.nutmeg
1 1/2 tsp. salt
1 tsp. cinnamon
3 cups sugar
2 tsp. baking soda
1 can 15 oz. pumpkin
1 cup oil
2/3 cup water
4 eggs
Mix dry ingredients together in mixing bowl. Add the rest of the
ingredients mix until smooth. Nuts, raisins or cranberries can be added.
Divide into 2 loaf pans bake 350 for 1 hour or until done.